12 Things To Do In West Campus, Austin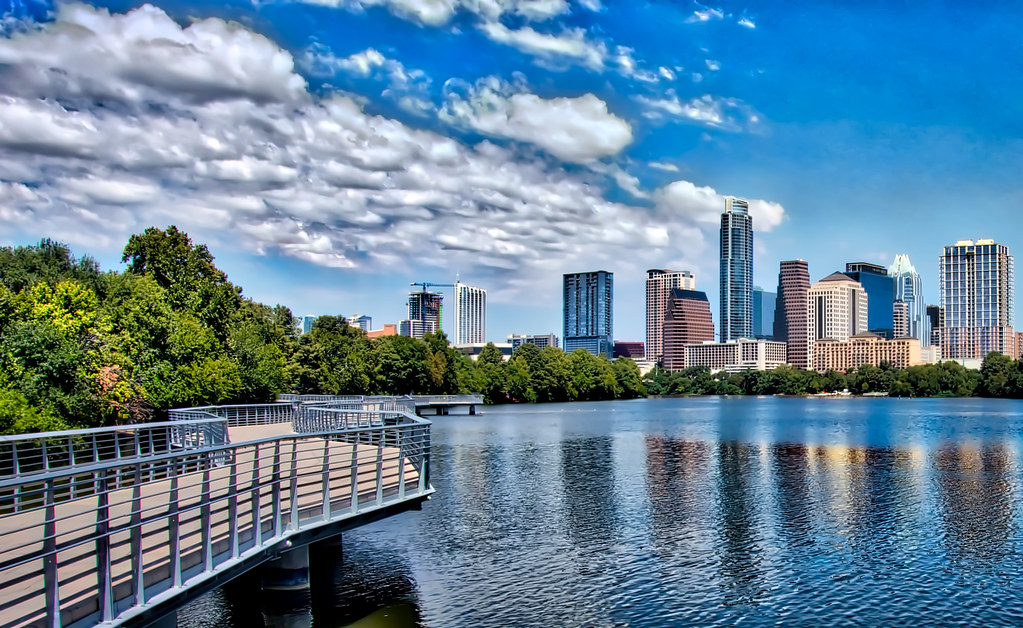 ---
West Campus is a great area to visit, filled with many amazing things to do. The West campus area is full of students who are enrolled in the University of Texas in Austin. Since there have been so many new students living in that area, there's a lot of fun new things to do in that area. At West Campus, you'll be able to enjoy things like live entertainment, delicious foods, shopping, and more! We at Moontower wanted to make it easier for you to find things to do in the West Campus area, so we decided to compile this incredible list of 12 things to do in West Campus, Austin.
Pease Park 
Pease Park is a great park to visit with a very beautiful scenic environment of 42 acres to explore. At Pease Park, you'll find volleyball courts, a baseball field, and basketball hoops for when you want to go practice or just play some ball with some friends. Pease Park is also a great place to have a picnic, jog, walk, or you can just relax in nature. If you have kids, you can take them to the playground where they have swings for the kids to enjoy.
Kerby Lane Cafe
Kerby Lane Cafe is a very popular restaurant with some of the best food in Austin. Kerby Lane is known for its amazing Tex-Mex style food, its delicious seasonal pancake flavors, and its famous Kirby Queso. This is a great cafe to check out but usually, it is packed on weekends.
Buffalo Exchange
If you're looking for one of the best thrift shops in the West Campus, then check out Buffalo Exchange on Guadalupe Street. This place has a lot of different unique styles to choose from, all for a low price. If you want to make a couple of bucks to shop and have clothes that you never wear, Buffalo Exchange will pay you cash or instore credit for select styles. 
Nice Kicks
Nice Kicks is the best place in the West Campus area to get an awesome pair of rare sneakers. Nice Kicks is a sneakerhead's paradise, where you'll find all kinds of popular sneaker brands like Adidas, Nike, Jordans, Vans, and more! This store doesn't only sell sneakers, there you can find the latest apparel styles to update your wardrobe.
Hole in the Wall
Hole in the Wall is a great place to go to have a few drinks while listening to some great live music entertainment. Hole in the Wall has a great selection of drinks to choose from, with happy hours on Monday through Friday at 3 p.m. – 8 p.m. and all day Sunday's, this is an awesome place to check out.
Neill-Cochran House Museum
If you're looking to check out some fascinating Austin history in the West Campus area, then you have to check out The Neill-Cochran House Museum. This historic Greek Revival house dates back to 1885 when the house built. The house has now been preserved as a museum and venue. The museum is open Wednesday through Sunday, from 1 p.m. to 4 p.m. with guided tours available with an appointment. The venue is also available to rent and can be used for things like weddings, dinners, receptions, meetings, and other special events. 
West Campus Food Trucks
Food trucks are a great way to try a wide variety of great foods to choose from. The food trucks on West Campus can offer a range of foods from burgers to barbeque to ice cream. Since food trucks have become very popular in that area, more food truck parks are appearing throughout West Campus. If you'd like to eat at one of these food truck parks, they usually offer a good amount of outside seating for you to enjoy your food outside.
Via 313 Pizza
Via 313 has some of the best pizzas in town. At Via 313 Pizza, you'll be able to choose from a wide variety of their delicious handcrafted gourmet pizzas. This place is definitely a must-try for any pizza lover.
The Burlap Bag
The Burlap Bag on Guadalupe is a great store to check out. There you can purchase some of the amazing scents of their unique soy candles. This place is a great store to either have a look around or to buy some of their awesome smelling soy candles.
Malvern Books
Malvern Books is a great book store to check out in the West Campus area. Malvern Books has an amazing selection of books to choose from and the store also features some awesome musical performances, poetry readings and book clubs. This place is definitely a must-visit for any book lover.
Love Goat
Love Goat is a great location to grab a couple of drinks. Love Goat has a nice menu of drink specials on their Friday nights, with live music for you to enjoy your drinks. This place is a great place to take some friends out for a Friday night or to just grab a couple of drinks.
Lucky Lab Coffee Co.
Lucky Lab Coffee Company has some of the best coffee in town. Here you can try a wide variety of coffee beverages and noncoffee beverages like their Espresso, Latte's, Hot Cocoa, Chai Tea Latte's, and more! This place is a great place to sit down, relax, and enjoy some of their delicious beverages.